Outdoor Decks, Kitchens & Fireplaces
"You dream it, we build it!" is our motto. Leave it to Weaver believes in your dreams and wants to help make them come true. We do not stop until our customers are satisfied. Quality and satisfaction is what you will get from Leave it to Weaver.
We would like the opportunity to assist with your deck selection process. The addition of a new deck by Leave it to Weaver will significantly enhance your homes overall beauty and value. We are dedicated to giving you the most complete resource for materials selection and construction methods to make "Intelligent Informed Decisions".
Contact Us at Leave it to Weaver today so we can create your custom outdoor living space.
For entertaining, there's nothing better than a quality crafted deck by Leave it to Weaver. We use only the finest top-quality lumber or quality composites and can build any deck to your specifications.

• Choose from our portfolio of designs or bring us your own
• Master-craftsmanship - get exactly what you want, any size or shape
• Pressure treated lumber and galvanized steel ringshank nails
• Poured concrete footings
• All low maintenance material available (composite or PVC)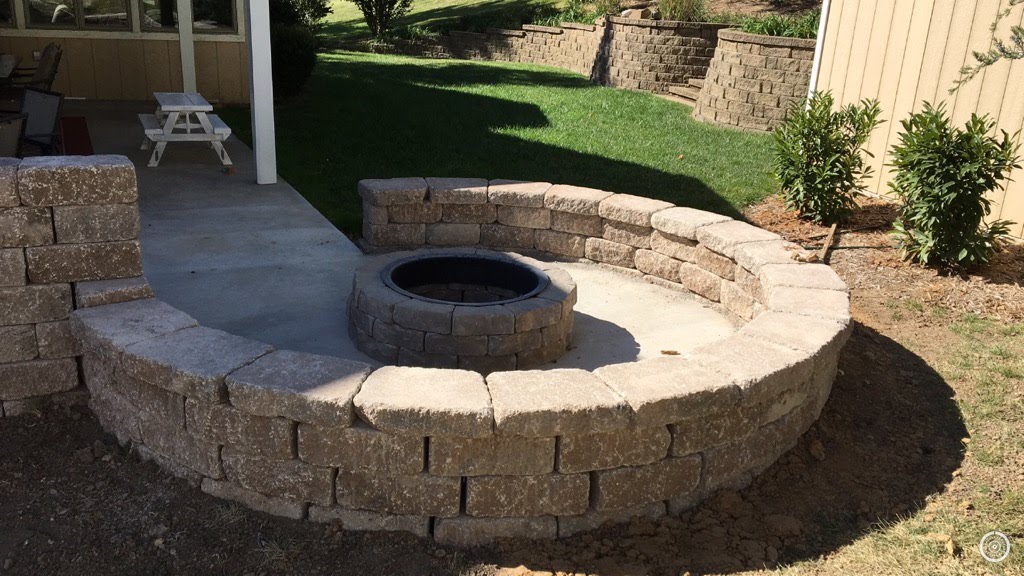 Fire pit with seating
Invite your friends over on those cool evenings to enjoy a beautiful fire in your stone fire pit. There's room for everyone to enjoy with a stone wall for seating.
Out door fire pit
Bring on the smores! Perfect for crisp evenings or even days. Stay warm by the fire or roast marsh mellows. Either way plenty of seating for all your family and friends.
Roof structure over patio
What a wonderful place to sit and relax at the end of the day! Shaded and protected from rain the family can sit outside and enjoy a pitcher of tea while staying cool and dry. On those cool Missouri nights the family can enjoy smores or roast hot dogs in the fire pit. Plenty of seating for everyone!
Roof Over Patio Ready for Entertaining
This space is ready for entertaining!
Roof Over Patio with Fire Pit
This spacious covered patio with fire pit and additional seating makes entertaining a breeze. Evenings with a fire and the glow from the lights makes it the go-to spot for relaxing and enjoying time with friends and family.
Porch Project Before Photo
This homeowner wanted a space to relax and enjoy visiting with neighbors so Leave It To Weaver built them a beautiful spacious porch.
New front porch with stone columns
A work in progress! More photos to come of this new front porch with beautiful stone columns.
Completed Front Porch
Beautiful front porch addition! This porch blends seamlessly into the existing home for a truly custom look. A one of a kind in this neighborhood! Leave It To Weaver can customize the exterior of your home to reflect your taste and style.
Deck project in Chesterfield
Starting a new deck for this family in Chesterfield. It's sure to be a hit when entertaining family and friends. More photo's to come!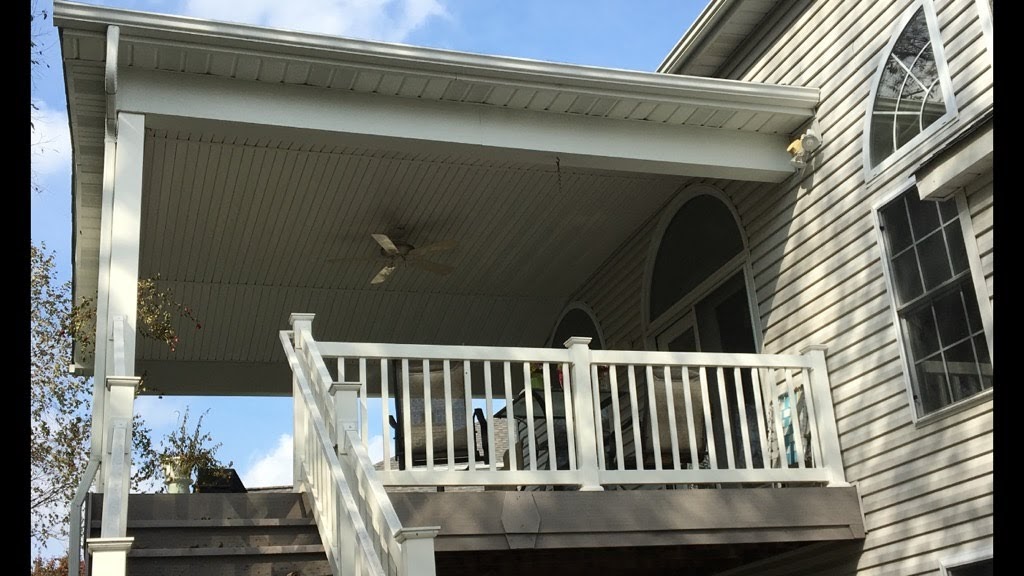 Covered Deck with Finished Ceiling
This covered deck is the perfect place for entertaining. The finished ceiling and remote control ceiling fan makes the space feel like an extension of the home.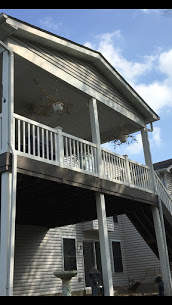 New Deck with Screen Porch
Beautiful new deck with screen porch. White vinyl railing and staircase allows access to the back yard and patio.
Deck with Screen Porch
A storm door allows the homeowner to keep children safe while enjoying an insect free evening and the beauty of nature.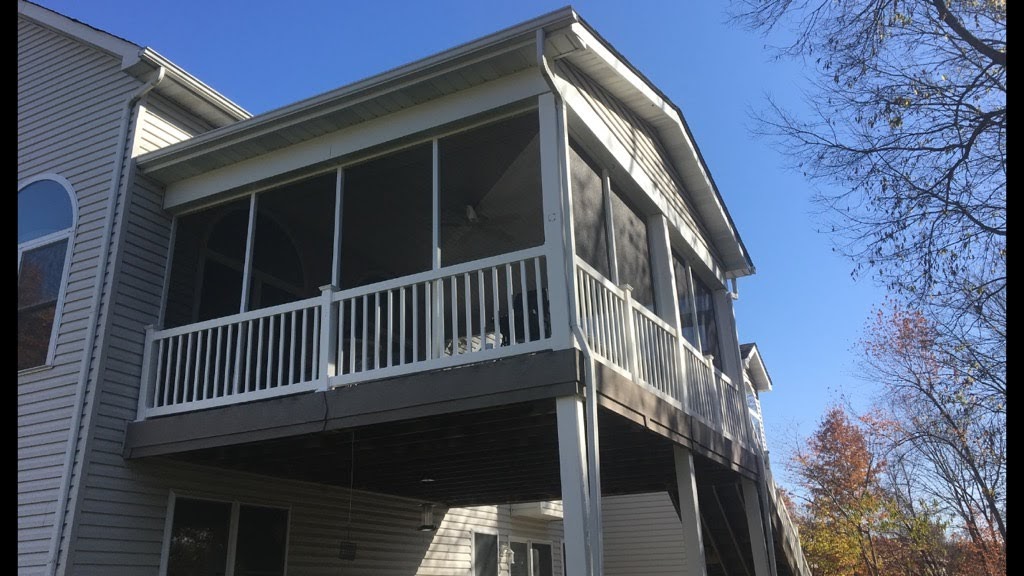 Outdoor Cooking Area with Pizza Oven/Fireplace
Imagine grilling in this beautiful outdoor cooking area. Plenty of space for grilling tools, a built in refrigerator to keep beverages cool while you cook AND an outdoor pizza oven/fireplace. Create your favorite pizza and bake it in the outdoor pizza oven for the freshest, best tasting pizza ever! The wood smoke flavor seeps into the pizza as it bakes giving it a taste that cannot be found in a kitchen oven! Enjoy baking pizza outside year around or just cozy up to the fireplace on those cold evenings to keep nice and warm.
Outdoor Pizza Oven/Fireplace
Beautiful stone work combined with Scot Weaver's knowledge of pizza oven design makes this the perfect oven for your personal pizza creations!
Spiral Staircase from Deck
How about a spiral staircase leading down from your deck to your patio instead of the usual straight staircase? This staircase adds interest to an otherwise standard deck.
Ramp with Retaining Walls Leading to Egress Entrance
Leave It To Weaver has combined function and beauty to create a handicap accessible ramp to the lower level of this home. Beautiful retaining walls allow the area to remain safe and clear of debris while adding elegance to a ramp that would otherwise have an institutional look and be potentially unsafe due to mud, rocks and other debris.
Egress Entrance with Ramp
This homeowner has easy access into the lower level using the newly installed ramp and built in pump keeps water from accumulating outside the entrance.