Basement Entertainment Area
Custom open book shelves that match the upstairs brings a seamless look into this new living space. Recessed areas in the wall to the left allow electronics to be connected and out of the way allowing the book shelves to showcase collectibles and not electronic clutter.
Basements
From a design standpoint, one of the advantages of Basement space is that it is away from the ordinary flow of traffic through the house (and can't be seen as you walk through the front door). This allows you to create more private rooms that won't be disturbed by guests and everyday household activity.
On the other hand, you can make the basement the center of activity -- add a new hang out place for your teenagers or a playroom for younger kids, for example. The separation between floors also gives you greater freedom when decorating the rooms, allowing you to choose styles that depart from the overall decorating scheme of the main floors of the house.
When you need more living space, turn to the basement. That space that you are most likely using primarily for storage is prime remodeling territory. For many homeowners, it's the best-kept secret in space expansion!
Our company has been finishing basement almost exclusively for the past 5 years. Basements have been a wonderful niche market for us. We constantly strive to maintain a technological and interior design edge over the competition. We can proudly say that our specialty is Interior Remodeling in residential and commercial projects. We are dedicated to giving you total customer satisfaction and will meet your every need with:
~Professional Remodeling Service
~Consultation & Free Budget Estimate
~Guidance and Help for Your Project
~Thoroughly Detailed Specifications
~We are Licensed, Bonded & Fully Insured
~High Quality Construction by our own crew and who care about your home
Scroll down for additional examples of our work!
Basement Bar Area
Beautiful basement bar with custom cultured stone. A truly custom look to make your home your own unique space.
Invite Your Friends and Family
Incredible lower level bar/entertainment area. Notice the gorgeous shadow box on front elevation of bar. This attention to detail makes this basement truly custom and one of a kind.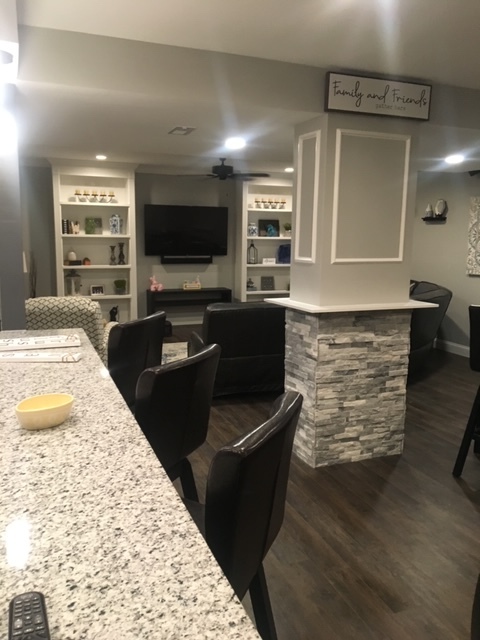 So Spacious It Doesn't Feel Like A Basement
Lower level finish with beautiful support column, custom drink rail and incredible stone below.
Relax and Enjoy Time With the Family
Completing this gorgeous family room are beautiful vinyl wood plank floors. Durable yet easy to maintain.
Basement Bath
Custom interior onyx shower with recessed soap dish.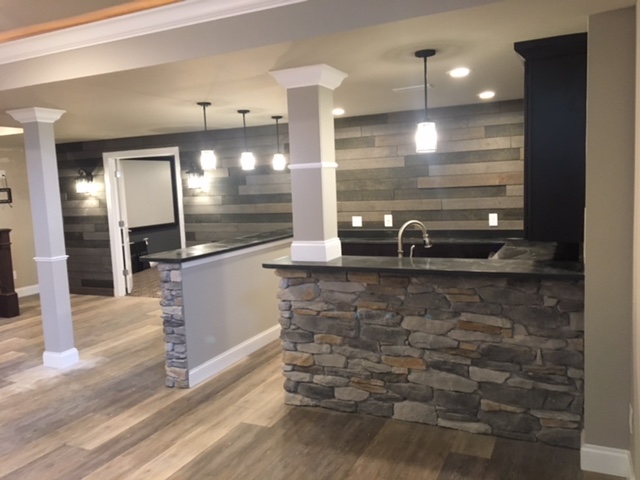 Basement finish with bar area
Basement finish with stacked stone bar area and pallet wood wall.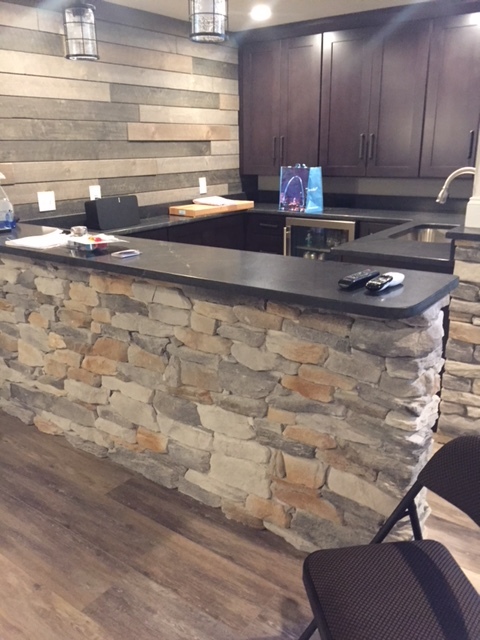 Stacked stone bar with mocca finish cabinets
Bar sink, built in wine cooler, beautiful pendant lights and granite countertop complete the rustic look for our customer's dream entertaining space.
Basement bath
Clear shower doors show off the beautiful custom tile work in this basement bath.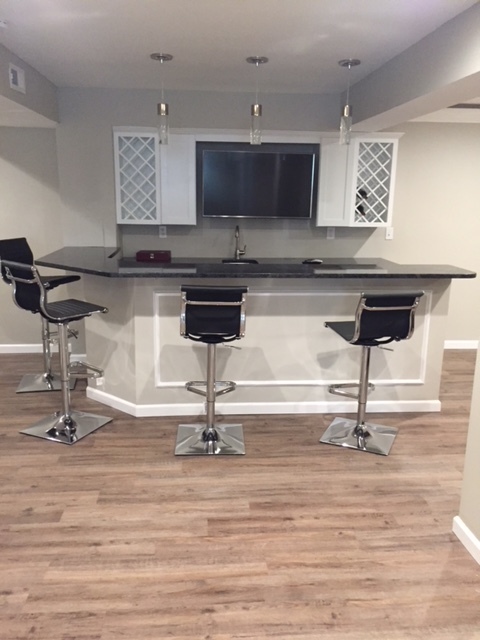 Basement Entertaining Space
Light and bright describes this beautiful bar area with wine cabinets. Granite counter top with custom bar and moldings. Vinyl plank flooring makes maintenance and clean ups a breeze.
Basement Bath
Basement bath that is truly beautiful and unique. Contemporary look that shows off the homeowners personality.